Company History
From Obsession to Profession
As a young boy, Dan Voss always found himself climbing around the canopies of trees. Free climbing all types of trees was his favorite pastime until he met David Guerra (aka "Mr. Tree") at age 15. That's when his passion became a profession. From that moment on, learning safe ways to climb trees was Dan's new obsession. As his career and business progressed, so did his appreciation for safety, saving lives and limiting workplace injuries. This motivated him to help develop the most innovative tree care invention of the century.
The Grapple Saw Truck
The grapple saw truck is a fully remote-controlled all-in-one tree removal machine keeping the operator on the ground, safely out of the drop zone. It took Dan about a year to master the techniques and to get all of the mechanicals in full operation. As Dan worked to perfect the technology, he realized he needed to team up with the best tree care professionals in the world.
Training Over 100 Companies
And so his journey with Altec (a leading provider of industrial equipment) began. Dan has traveled the entire country and even to international destinations like Santiago, Chile, sharing this technology and making a permanent, positive impact on the safety culture within the tree care industry. Dan has trained operators at over 100 companies (and counting), helping them integrate the new equipment into their day-to-day operations.
2018 Paradise California Wildfire
In 2018, Dan had the honor of bringing a fleet of trucks to the Paradise wildfire in California, taking the lead in hazard tree removal, teaching local professionals how to work with the innovative new technology, and building the largest fleet of its kind in the nation. After a very successful run in California, Dan, his wife Jackie, and kids Willow and Sonny returned to their beautiful home state of Wisconsin.
Jackie Voss Launches CutnGo
Since returning, Dan continues to pursue his plans of spreading this technology far and wide. Jackie launched her own companies (CutNGo Trees & GrindNGo Stumps) here in Wisconsin, providing knuckle boom remote-control tree removal. CutNGo now has a large residential branch, as well as branches for municipalities, the DOT, DNR, subcontracting, and utilities. CutNGo is one of the only line clearance utility-certified remote-control tree removal service companies., with a staff of utility line clearance qualified operators.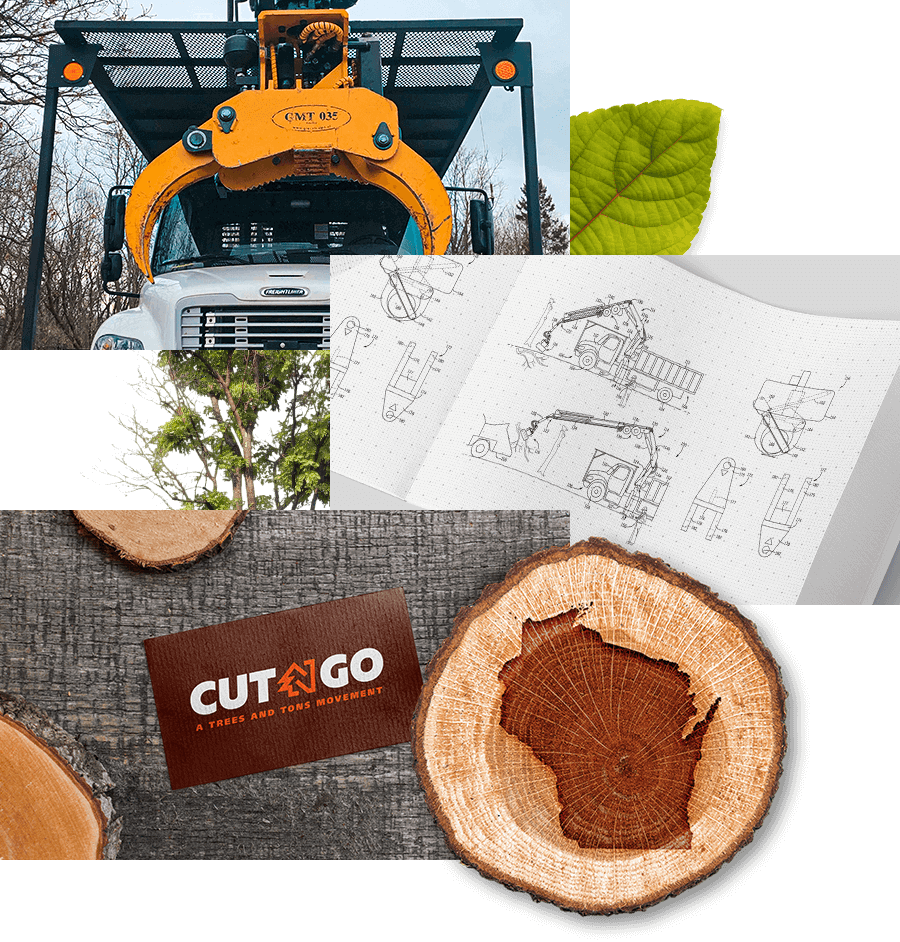 Company Vision
The goal of CutNGo is to provide the best tree removal equipment and service in the world to ANYONE eager to participate in improving the safety culture of tree care.
Not only do our vehicles perform 3 to 1 tree removals compared to buckets or climbing, but they also bring an unmatched level of safety: ALL employees on every job are able to stay safely outside the drop zone. Improved efficiency also allows us to offer some of the most competitive rates in town.
Our equipment can levitate trees out from wherever they're located: by decks, buildings, landscapes, wetlands, roadways and power lines. The incredible maneuverability and precision help keep your property beautiful before and after our work is done.
We not only provide the equipment for tree removal or crane lifting, but each job is also managed by an elite, highly-trained operator. We take on jobs of all sizes, including subcontracted work for other trade professionals.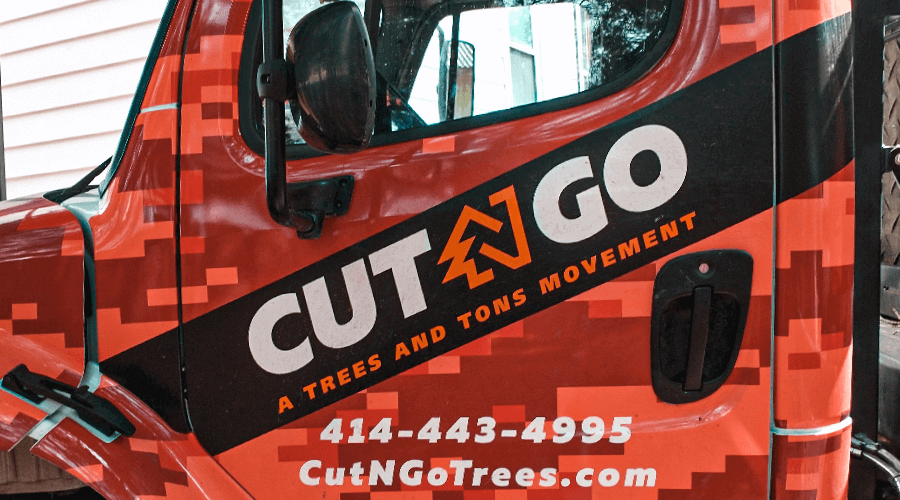 Tree removal programs
We offer a variety of tree removal services and specialize in hazard tree removal. Our most popular and cost-effective "half service" is very unique. We send a truck and operator to your property. The operator will swiftly bring the unwanted trees down to the ground and leave them stacked in an orderly fashion. We do the most dangerous half of the job, hence the name. For years customers asked us, "How much to just get the tree on the ground?" We never had a good answer because of safety concerns. Before the grapple saw truck, we had to send a minimum of 3 employees and mass equipment, which meant our fees were still "full service." Now our innovative technology lets us offer the half-service customers have been asking for. And we still provide our full-service tree removal for those who need it. We can chip the brush and haul all the wood away, too. Offering more options means we can work with almost any budget.
Stump Grinding
Clients can now have stumps removed from their property through our sister service, GrindNGo Stumps. You'll get the same transparent, up-front pricing you've come to expect from us and the same optional cleanup service when we're done. We grind stumps to a minimum 6" depth so the area can be backfilled with dirt and grass seed can be planted over the top. We can even handle the landscape restoration for you, so it will appear like the tree was never even there.
Tree Trimming
As a company, CutNGo has invested everything into tree removal equipment specifically. We can recommend great trimming services from one of our many local partners.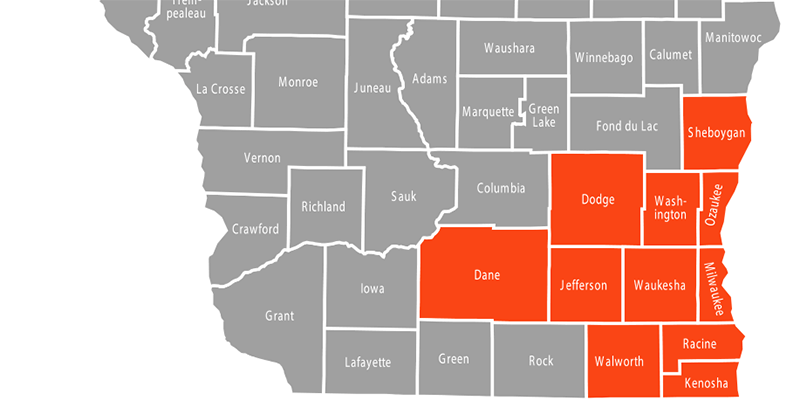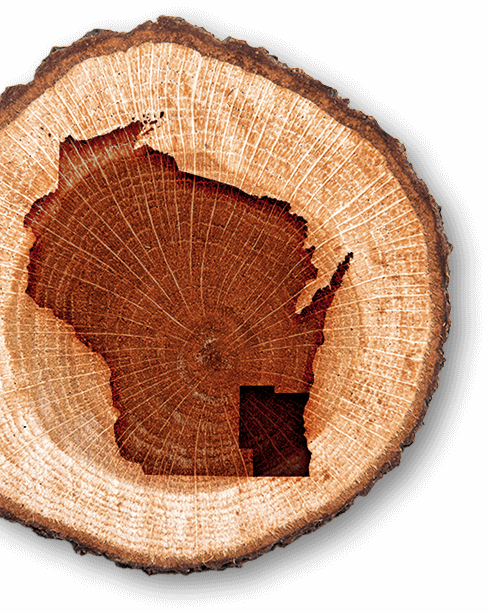 City Tree removal in Southeast Wisconsin
From our Waukesha location we provide the best tree removal service throughout the region including all of Jefferson, Waukesha, Milwaukee, Racine, Kenosha, Walworth, Washington, Dodge & Ozaukee Counties.